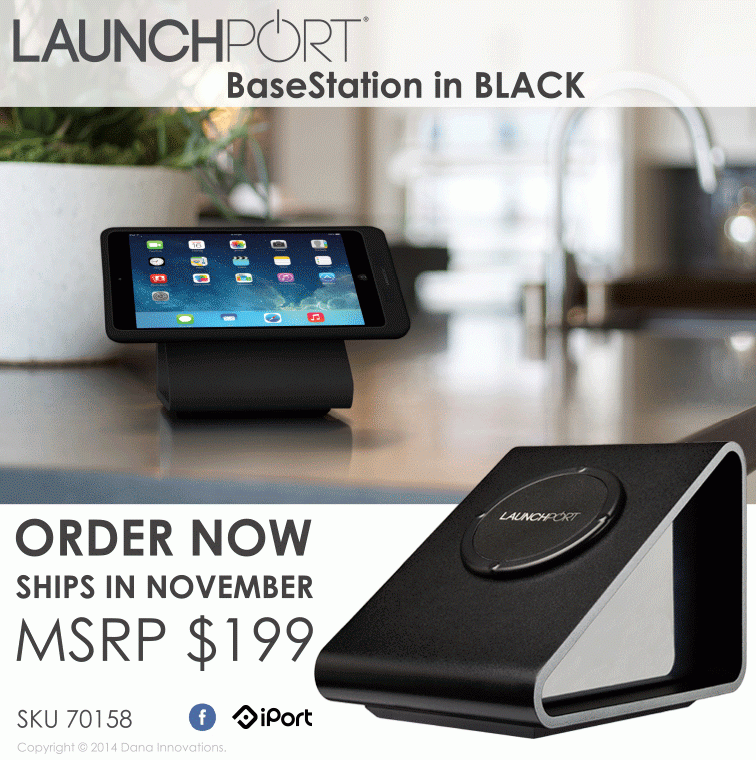 Now available in black, LaunchPort changes how you can use your iPad.
The LaunchPort system is a revolutionary way to mount and charge your iPad anywhere.  The system consists of a Station and a Sleeve. Any Sleeve works with any Station. LaunchPort uses the magic of magnets andinduction charging (charging through the air), it's like magic.
Sleeve
The LaunchPort Sleeve is a protective case that contours to fit iPad.  You can effortlessly mount and charge your iPad on a wall using a WallStation, or on a tabletop with the BaseStation- at the perfect angle for typing and tapping (sold separately). Choose between soft touch black or white gloss finishes. Use your iPad in more places, keep it fully charged and create a home for your iPad.  Use the AP.4 Sleeve for iPad 4th generation, AP.3 Sleeve for iPad 3rd generation and iPad 2, and AM.1 Sleeve for iPad mini.
BaseStation
The BaseStation allows you to mount your iPad on a tabletop at the ideal angle for typing and tapping. Rotate your iPad 360 degrees while it remains mounted and continues to charge, all while using the provided detents for alignment to switch between portrait and landscape orentations. Silver aluminum and black gloss finishes ensure the BaseStation will be at home among the rest of your Apple gear.