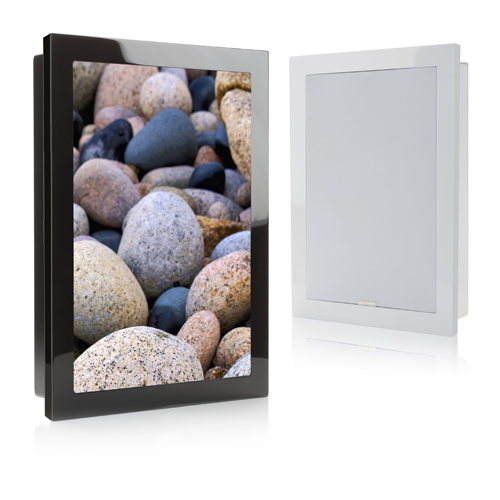 The innovative SoundFrame 'picture' speakers from Monitor Audio make it easy to integrate high quality sound with any interior. On-wall and in-wall options with pivoting drivers for ideal audio balance and a wide range of images to choose from. SoundFrame provides the elusive blend of superior sound and décor that all style-conscious home entertainment lovers seek.
On-wall and in-wall versions of the all three models incorporate pivoting C-CAM® drivers developed for range-topping in-ceiling and in-wall speakers. Each can be directed toward the optimum listening position for detailed sound and accurate imaging. Naturally punchy and rhythmic mid-bass frequencies are reproduced by a further single bass driver.
The SoundFrame models will combine in any way and in any number to generate brilliant multi-channel music and film sound, surpassing the quality of many conventional box systems without the cost to living space and décor. Because they share Monitor Audio's world-renowned driver technologies, they'll dovetail acoustically with other Monitor Audio loudspeakers for precise audio results. The path to perfect high fidelity music and film sound solutions for the home begins right here. 
Inverted Dual Concentric (IDC®) 4-inch mid-range/1-inch tweeter module
6.5-inch C-CAM® bass driver
Advanced RST® cone technology
High frequency switches on both on-wall and in-wall models will raise or lower levels by 3dB.
Ultra-slim on-wall profile
Quick and easy to install
Perfect integration with all Monitor Audio loudspeaker ranges
Directable sound via proprietary IDC module
Through-hole front terminal connection
Option to mount 'in-wall' for an even slimmer profile
A choice of high gloss black, high gloss white or paintable grille frame provides a seamless blend with any interior
Choose an image from their gallery or provide your own Hi-Res image

[mediagrid cat="678″ filter="0″ r_width="auto"]