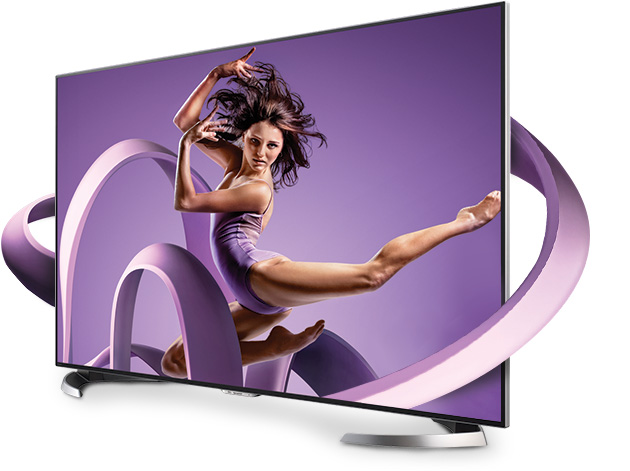 Via Sharp :
The Sharp® AQUOS 4K Ultra HD is held to a higher standard of picture performance. With four times the pixel resolution of full HD, everything you watch on the THX 4K-certified AQUOS 4K Ultra HD LED TV is four times sharper and more realistic. It's not just amazing—it's certified amazing.
Best Ultra HD Television : CES 2014
Sharp AQUOS 4K Ultra HD LED TV
There were dozens of Ultra HDTV's at CES 2014, but the new Sharp Aquos 4K Ultra HDTV is taking home our 2014 Best Ultra HD Television Award — and with good reason. This 4K Ultra HDTV gives you super high-end picture quality at a reasonable price. While there were other fantastic Ultra HDTV's at CES, we found that the Aquos 4K exceeded our expectations in picture quality, screen size, aesthetic design, sound quality, functionality, viewing angle, and price. It comes bundled with apps for Netflix, Vudu, YouTube, Pandora, Facebook, and more. A lot of love went into the making of this Ultra HDTV, which is obvious as soon as you step up to it, no shortcuts here.
The Sharp Aquos 4K line is also the first Ultra HDTV to have THX 4K Certification, meaning that it has passed 400 lab tests put together by Hollywood professionals. We found ourselves coming back to the Sharp booth to hypnotize ourselves in front of this gorgeous and affordable Ultra High Definition Television. While Sharp already offers a 2013 model (Model#: LC70UD1U), the updated 2014 models (Model#: TBA) will be available starting in Summer 2014 with a 60-inch model priced at $4,999.99 and a 70-inch model at $5,999.99. It may not be as cheap as the competition, but we felt that you'll get the most bang for your buck with Sharp. Both 2014 models come with four HDMI 2.0 ports, two USB ports, and the updated SmartCentral 3 platform, which makes content recommendations to the viewer along with other new features.