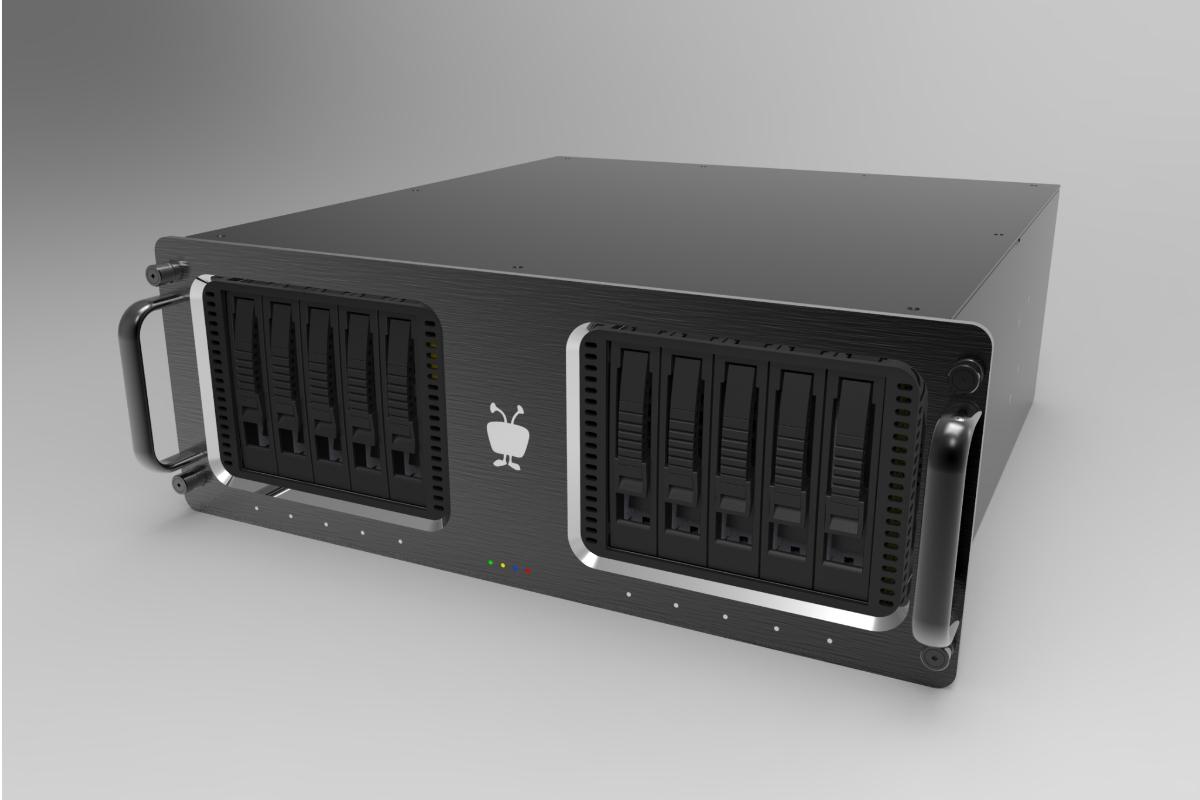 TiVo Mega Can Record Over Three Years of TV
SAN JOSE, CA–(Marketwired – Sep 8, 2014) – TiVo Inc. (NASDAQ: TIVO), a leader in the advanced television entertainment market, today unveiled the biggest DVR it has ever made, TiVo Mega. TiVo Mega boasts 24 terabytes of recording space, the equivalent of over 26,000 hours of TV. The whole home capable TiVo Mega marries unprecedented storage with the all-in-one approach to live, recorded, on-demand, streaming services and web-based television that gives consumers what they want on any screen, wherever they are.
"Size matters. People hate being forced to delete cool stuff from their DVR before they want to or finding a TV show they had recorded is now gone. Now, with TiVo Mega they can always know their show or movie is still there to watch later," said Ira Bahr, CMO at TiVo. "TiVo Mega offers more than twelve times the storage of any cable or satellite DVR. TiVo Mega is the solution for the power user who wants to record everything. We salute you and enjoy!"
A rack-mountable appliance with 30 times the capacity of most cable or satellite DVRs and user-swappable drives, TiVo Mega features six tuners that can record a multitude of content simultaneously and support the TiVo Mini for the ultimate whole-home solution. Users can stream live TV or recordings to their smartphones and tablets and even download programming to enjoy for offline playback.
TiVo Mega Features Include:
Storage: 24 Terabyte RAID 5 HDD
Six tuners
Streaming live and recorded TV to smartphones and tablets anywhere: Built-in stream transcoding
Multi-room: Whole home capable
26,000 hours of SD recording space, approximately 4,000 hours of HD recording space
Content navigation:
o    Universal search across cable, video-on-demand and web apps including Netflix and YouTube
o    "What to Watch" provides a personalized dashboard with recommendations for what's on now, next and tonight
o    Collections offers editorial collections based on current events or categories including new fall TV, Shark Week, Holiday, Emmy or Oscar winners, etc.
o    Channel guide with filters to enable users to get to what they want as quickly as possible
Free application for smartphones and tablets: manage your DVR with your phone or tablet through remote Season Pass® management, a recording scheduler that allows you to add or remove recordings and enhanced WishList® management
Remote: TiVo Slide Pro Remote included, Full QWERTY-format slide out keyboard makes text entry fast and easy and RF signal for maximum power removes line-of-sight requirements
Networking: Ethernet and MoCA
Hardware configuration: Hot user-swappable drives, offering protection from data loss
TiVo Mega is on display this week at CEDIA EXPO 2014. For more details a demo of its capabilities, visit TiVo Booth #570 at the Colorado Convention Center.
Pricing & Availability
TiVo Mega is expected to be available in retail during the first quarter of 2015. Final pricing will be announced in coming months, but is expected to be retailed at approximately $5,000, including product lifetime service.
About TiVo
TiVo Inc. (NASDAQ: TIVO) is a global leader in next-generation television services. TiVo's innovative cloud-based Software-as-a-Service solutions enable viewers to consume content across all screens in and out-of-the home, providing an all-in-one approach for navigating the 'content chaos' by seamlessly combining live, recorded, on-demand and over-the-top television into one intuitive user interface. The TiVo experience provides TV viewers with simple universal search, discovery, viewing and recording from any device, creating the ultimate viewing experience. TiVo products and services are available at retail or through a growing number of pay-TV operators world-wide. TiVo's multiple subsidiary companies provide the broader television industry and consumer electronics manufacturers, cloud-based video discovery and recommendation options, interactive advertising solutions and audience research and measurement services. More information at: www.TiVo.com.
TiVo, the TiVo logo, WishList and Season Pass are trademarks or registered trademarks of TiVo Inc. or its subsidiaries. All other trademarks are the property of their respective owners.