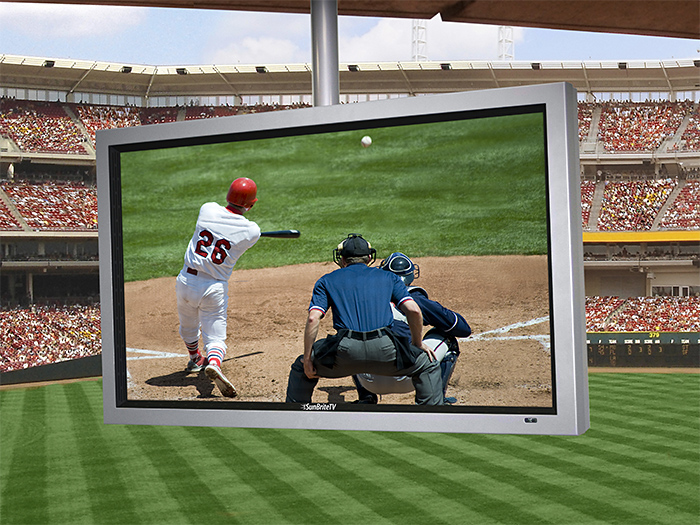 Available at Serious Audio Video :
SunBriteTVs are the only time-tested TVs in the world that are specifically designed and built for the outdoor environments. These true all-weather outdoor LCD TVs deliver superior brightness, while resisting the harsh effects of rain, dirt, insects, extreme temperatures and UV rays.
All SunBriteTVs are designed, engineered, and assembled in our production facility in Thousand Oaks, CA—making SunBrite the only consumer brand that actually manufactures televisions in the United States.
SunBriteTVs have earned a reputation for toughness and durability and have lasted for years in some of the harshest climates in North America. SunBriteTV is the outdoor TV of choice for many professional sports stadiums including: Yankee Stadium, Gillette Stadium, Wrigley Field, Soldier Field, Marlins Park and many others.
So how did this get started? Inventors and founders, Larry Kaiser and Tom Weaver, faced a common dilemma experienced weekly by many sports fans. Stay inside to watch a Dodgers game or go outside on the patio and enjoy a beautiful California day? Their thoughts: why not do both? So with vision, innovation and determination, they designed and built a product that had never existed before – a TV that could play in the rain. In November of 2004, SunBriteTV successfully launched the worlds' first true outdoor television.
SunBriteTV's mission is to deliver a safe, outdoor, worry-free entertainment experience to our customers. Our goal is to design and produce the highest quality outdoor products in the world. Our core values are integrity, innovation, teamwork, and we are deeply committed to delivering complete customer satisfaction. If you own a SunBriteTV and you are not 100% satisfied, we want to know about it. Please contact us at: